Insights and Inspiration on the Business of Good Food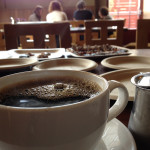 Enjoy the stories of a few FoodStarters whose food businesses will make a big impact personally, globally and locally: This One-Woman Coffee Venture Could Give a Child a Home – Daily Coffee News writes about Chasing Mercy, a San Rafael, CA-based micro-roastery whose sales will help founder Marlee adopt a child. Grilled Cheese Fundraisers from […]
FoodStarter Advisory Service: Your Personal Think Tank
A right-hand trusted advisor may seem too good to be true — but that's what I do. And it works. Here's what some recent clients had to say:
Query:
Ideas for finding employees, where to sell, and tradeshows
Feedback:
"One thing I am sure of is that we will be working together again."
Query:
"I need to move to the next level with my local food business but need help."
Feedback:
"Thanks so much for the helpful info and contacts. "
See how we work together...