For whatever reason, I enjoyed the 2014 Winter Fancy Food Show more than any other. So many good people, so much interesting food. I ran into lots of long-time colleagues and got to know someone I grew up with but had never really spoken to. While at any time about 75% of people seemed to be looking at their phones, the crowds offered a respite (requiring that we look up and at each other).
Adding to the excellent wrap-up of Top 5 trends, a few more foods like anything-on-ice-cream, kept popping up. Here are a few that stood out:
1. Delicious soup ingredients
Lotus Foods' Forbidden black rice ramen, which I made with sriracha sauce, garlic and toasted sesame seeds along with another trendy ingredient (see #2)…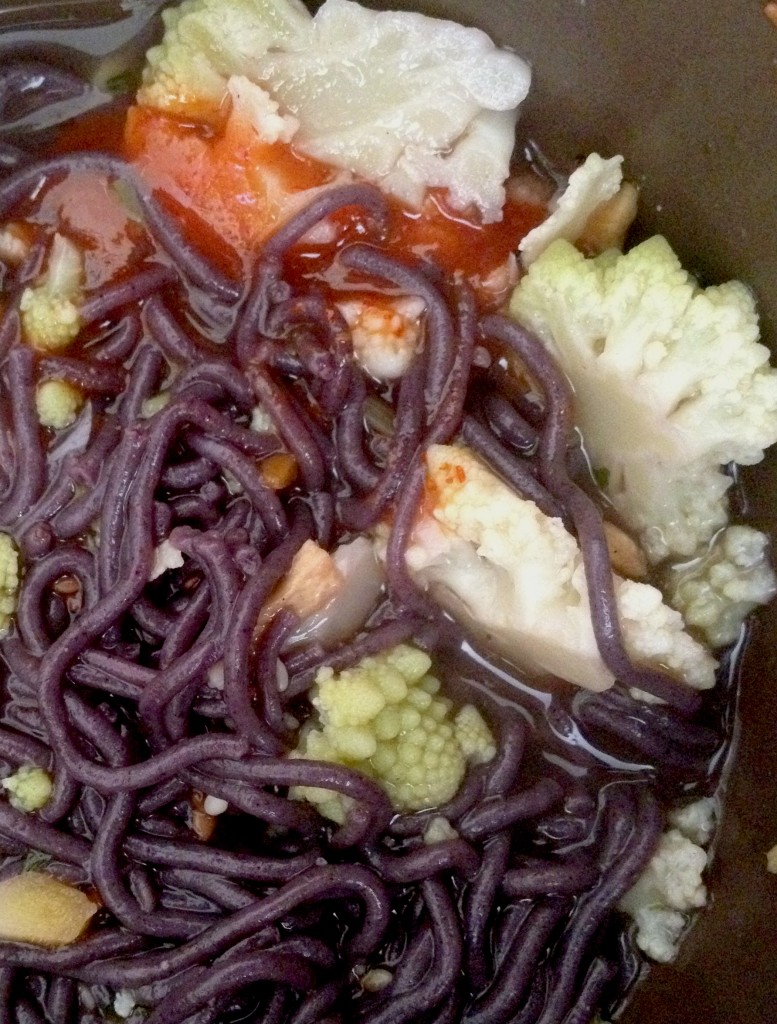 2. Ginger ginger everywhere
I adore ginger, so this winter's show rocked my world. Vosges Haut-Chocolat had a fabulous toffee with clementine and ginger. Ginger People sampled their Tahitian crystallized ginger candy (usually I find ginger candy from Thailand or China).
At the Food Fete event, I came across this "instantly fresh" dried ginger from Litehouse Foods. If you thought pre-peeled ginger was a convenience, this dried ginger (which tasted like fresh when I added it to my black rice ramen) is an even huger convenience: doesn't even need to be refrigerated!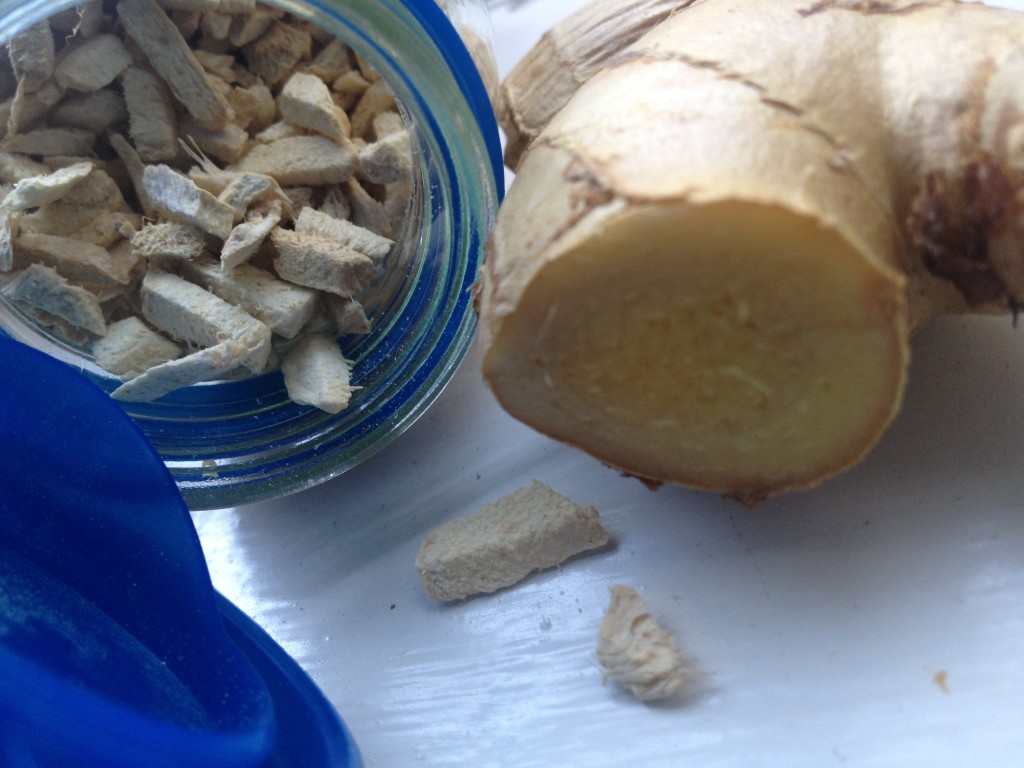 3. Really pretty colorful packaging
I saw lots of product lines that look lovely when displayed. Like this line of Rustic Bakery cookies that, they tell me, make for fabulously attention-getting displays
4. Peanut madness — and it's a good thing
I love peanut butter even more than ginger. So Droga Chocolates' Peanut Butter Bots (with a delicate crisped rice crunch) drove me botty. Amella Caramels has added a crunchy peanut caramel to its lineup. Of course Justin's and Ocho had their awesome peanut butter candy in the house.
Ricky's Lucky Nuts from Colorado come in an assortment of deliciously spicy flavors (that hopefully will make it onto airplanes some day).
Koeze sampled its organic super crunchy peanut butter called Sweet Ella. And while I missed it, a company called PB Crave, sampled a line of flavored peanut butters.
The Peanut Board was in the house and reports that a smattering of organic peanut processors are making up for the shortage that many peanut butter-dependent food companies experienced after Sunland closed.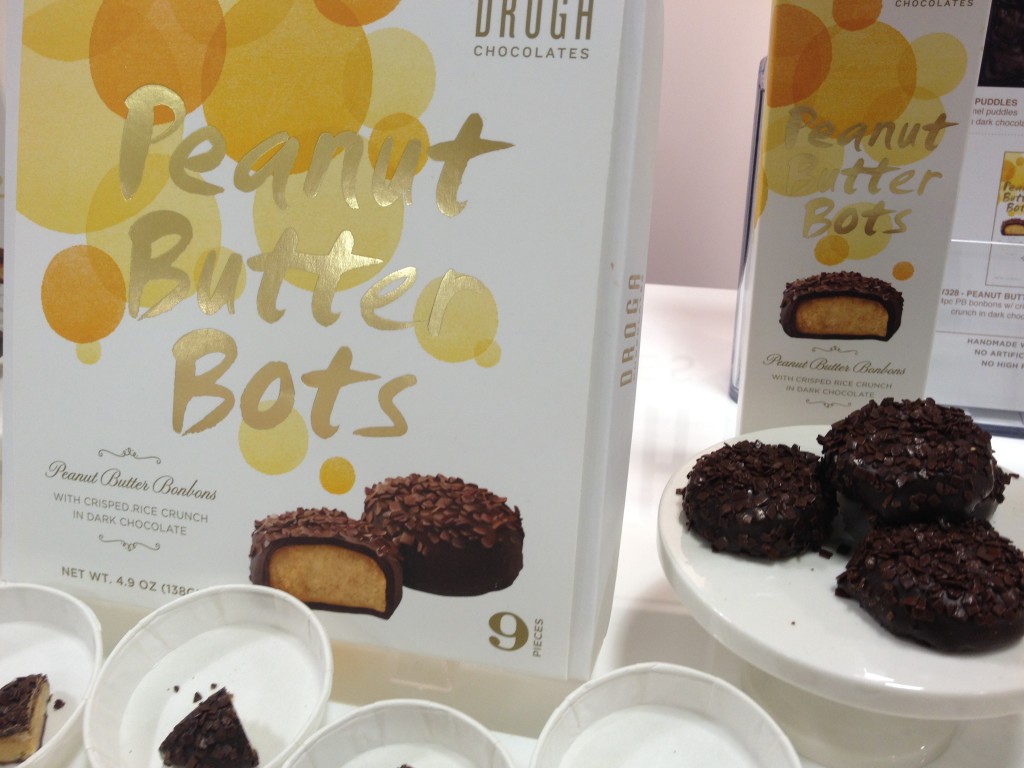 5. Mole
There isn't really a mole sauce trend but the ultra spicy rich mole sauce I sampled the morning of Day 1 still remains firmly on my palate (whose card I have yet to extricate from my massive stack)…my brief thought of using Evernote to scan cards as they came flew out the window. Next show!
[miniflickr photoset_id=72157640008146766&sortby=date-posted-asc&per_page=50]