My email in-box has become a hari kari of pain as messages stream in announcing all kinds of awesome food events for aficionados and food businesses — at the same time. Here's the full list (which I'll keep updating) of all the places I'd like to be in January and in the following weeks.
Come on magic power, clone me!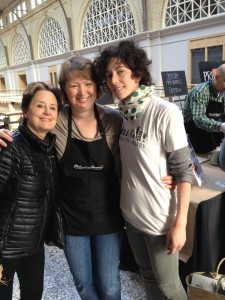 Good Food Awards (San Francisc0)
For a few years it's been my pleasure to help the Good Food Awards in Chocolate and Confections to celebrate the kind of food we all want to eat: tasty, authentic and responsibly produced. The GFA grants awards to outstanding American food producers and the farmers who provide their ingredients. The annual Awards Ceremony (featuring some beloved food luminaries as hosts) and winners Marketplace are always delicious fun.
DATES: January 8-10, 2015
WHERE: San Francisco (Palace of Fine Arts & Ferry Building)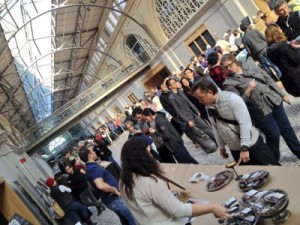 Fancy Food Show (San Francisc0)
That's where I'll be! "The Winter Fancy Food Show is the West Coast's largest specialty food & beverage trade show. Discover 80,000 on-trend and best-in-class products including confections, cheese, coffee, snacks, spices, ethnic, natural, organic and more. Connect with 1,300 exhibitors representing the latest in specialty foods and beverages from across the U.S. and 35 countries and regions."
DATES: Sunday, January 10-13, 2015
WHERE: Moscone Center
On January 12, please come to the nearby Commonwealth Club panel of women food business leaders I'll be moderating: Good Food, Great Business: How Food Startups Take Good Ideas from Concept to Success — then stroll the show with me after!
Northwest Food Processors Expo & Conference (Portland)

"The annual Northwest Food Processors Expo and Conference is the largest regional food processing trade show in North America, bringing together premier industry experts and exhibitors. In its 101st year, Expo helps address urgent operational needs as well as innovative efforts for the growth of the industry."
DATES: Friday, January 12-14, 2015
WHERE: Portland, Oregon – Oregon Convention Center
American Farm Bureau Convention & Trade Show (San Diego)

I may not be a farmer but I love farm conferences and shows (guilty of using such a show to go to Paris once). The annual convention of this 6 million-member organization includes a Rural Entrepreneurship Challenge, with $$$ awards to winners. If only I'd pulled that solar, mobile dehydration trailer idea together.
DATES: January 10-14, 2015
WHERE: San Diego, California
MORE INFO: http://annualconvention.fb.org/
The Food Design Show – Food as Molecular Gastronomy, Artifact & Biosensor (New York)

Gail Nathan of Bronx River Art Center (BRAC) says, "This is the first of an extensive two-year production of ten exhibitions that will run through 2016, collectively called Food Systems, Surroundings & Sensibilities focused on all aspects of Food Systems, with a particular emphasis on the health issues facing our South Bronx Community. Our goal is to bring heightened awareness and understanding of the the importance of healthy foods and diet to improving overall health of our community."
DATES: Friday, January 9-31, 2015
WHERE: Bronx, New York
Food Tank First Annual Summit & Birthday Dinner (DC)

Not only is Food Tank, the food industry think tank, holding its first summit (sold out, with live stream available) but they are having what sounds to be an amazing birthday dinner in partnership with Edible DC and Sustainable America to celebrate Food Tank's 2nd Anniversary. Keynote speakers include Washington Post Food and Dining Editor Joe Yonan, Chef Jose Andres, and Farmers Restaurant Group Founding Partner Dan Simons.
DATES: January 21-22, 2015
WHERE: Washington, D.C.
Later in the 1st quarter…
Food + Enterprise in Brooklyn – February 25-March 1
Expo West Natural Product Expo – March 5-7
California Small Farms conference – March 7-10
I'm guessing this is but a fraction of great Q1 food industry events – what else?