On a rare break from 2015 Winter Fancy Food Show madness, 100 or so aspiring food entrepreneurs and food-curious folk joined a San Francisco's Commonwealth Club / Bay Gourmet forum to learn do's and don'ts of starting and growing food product businesses. The apt event title: Good Food,Great Business: How Food Startups Take Good Ideas from Concept to Success.
Listen and Learn
You can be there now, thanks to the magic of recording technology. If you're starting a food product business or simply love the stories behind growing food businesses, here you go:
Good Food Great Business Commonwealth Club program recording (MP3)
Or watch the unofficial iPhone videos. Here are a few highlights: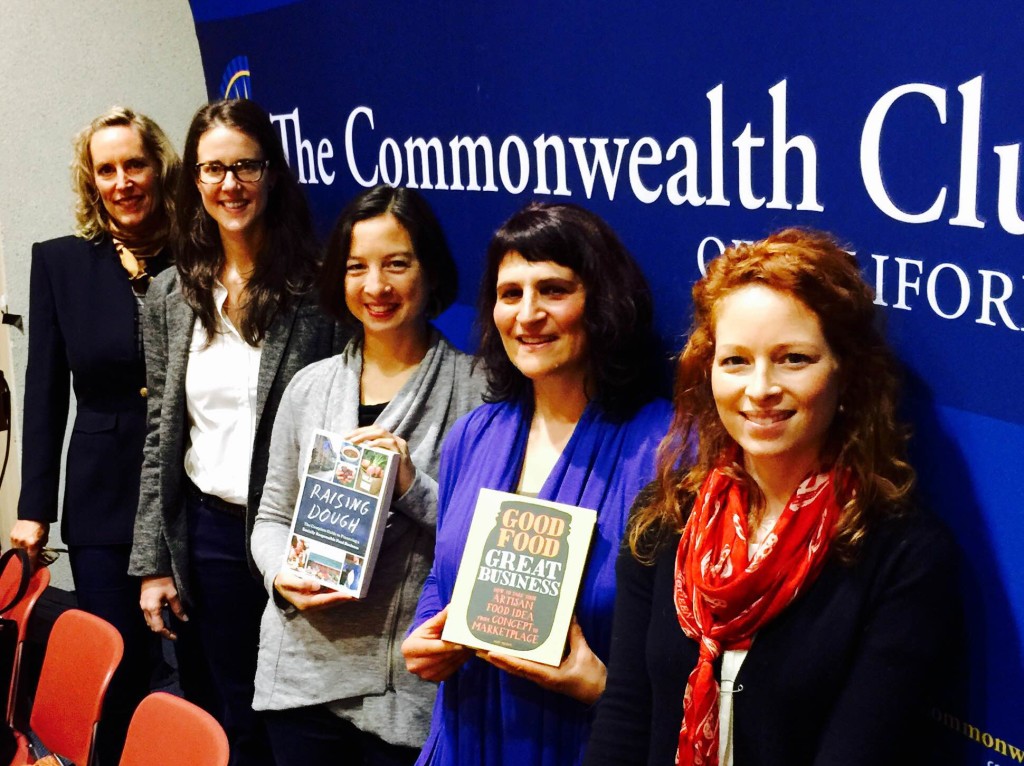 The Panel
The smart, innovative women leaders on our panel shown from left to right in the photo are:
Kathryn Lukas
, CEO,
Farmhouse Culture
— sauerkraut made in the Santa Cruz area using local, farm-direct ingredients and distributed nationwide in innovative packaging
Grace Erickson
, General Manager,
Ocho Candy
— organic delicious versions of classic candy bars handmade in a factory in Oakland
(
Lisa Murphy,
 Co-founder and Chief Sauce Maker,
Sosu Sauces
could not make it. She makes her sauces using seasonal tomatoes and local chile peppers, produced in her factory in Oakland and has found
great success with Kickstarter
.)
9 Smart Questions Aspiring Food Entrepreneurs in the Audience Asked
The audience had great questions for these women business leaders. Questions you'll hear answers to in the recording and video include:
What tips can you give food startups as far as the customer discovery process? How did you figure out if and what your customers wanted?
What level / type of interaction do you have with customers to get product feedback?
What has guided the design of your food products over time?
Are you making a good living from your businesses?
If you're just trying to get money coming in, when and how do you have time for business planning? So much can change while you're writing the plan!
How did Farmhouse Culture's innovative packaging in pouches come about?
How do you find co-packers? (Jill Litwin shared a lot of tips about this in Good Food, Great Business.)
How did you make the first scale-up step from tinkering to selling, and were there regulatory issues?
How did you build or find a team to work with?
These Women Food Entrepreneurs Are Not Leaning In
Initially, the idea to convene only women-led businesses struck me as in the zeitgeist. Yet the special thing about this particular panel was that the topic of gender never came up.
These passionate and brilliant entrepreneurs (and I) focused on how they got started and are leading the businesses into the future. Their motivation, drive, and success comes from within—and they lead.
Fascinating Tips on How Consumer Attitudes Toward Choosing Their Foods and Brands
<5 minute video discussion with Grace of Ocho Candy on testing with consumers and Jill of Peas of Mind on her branding decisions.
What questions come up for you after enjoying this forum?