What if all wine, coffee or beer tasted the same?
Oh yes, there's a time and place for the kind of predictability you get from a familiar taste (and / or buzz) experience.
But just as wine and coffee and beer have evolved to be all about taste and terroir, so is chocolate—thanks to the Heirloom Cacao Preservation Fund (HCPF).
A group of chocolate industry veterans started the HCPF in a quest to save interestingly flavored cacao varieties from going extinct, much as Slow Food's Ark of Taste does the same for other foods around the world. Like many of these efforts to save heirloom foods, this project has some great side effects not only for craft chocolate lovers but for farmers in cacao-growing regions.
Heirloom designation rewards cacao farmers for cultivating rare and interesting strains of cacao for which they could make a much higher price vs. growing the opposite: "generic" tasting beans designed for the commodity market.
And, making cacao a more lucrative crop increases the chance younger generations will want to stay local and make a living as growers.
Heirloom cacao designation is for the creme de la creme.
Growers who believe their cocoa beans offer a flavor profile beyond the usual can apply for evaluation for possible heirloom cacao designation.
They put their beans into the hands of experts from the likes of Guittard Chocolate (family-owned chocolate makers since the 1800s).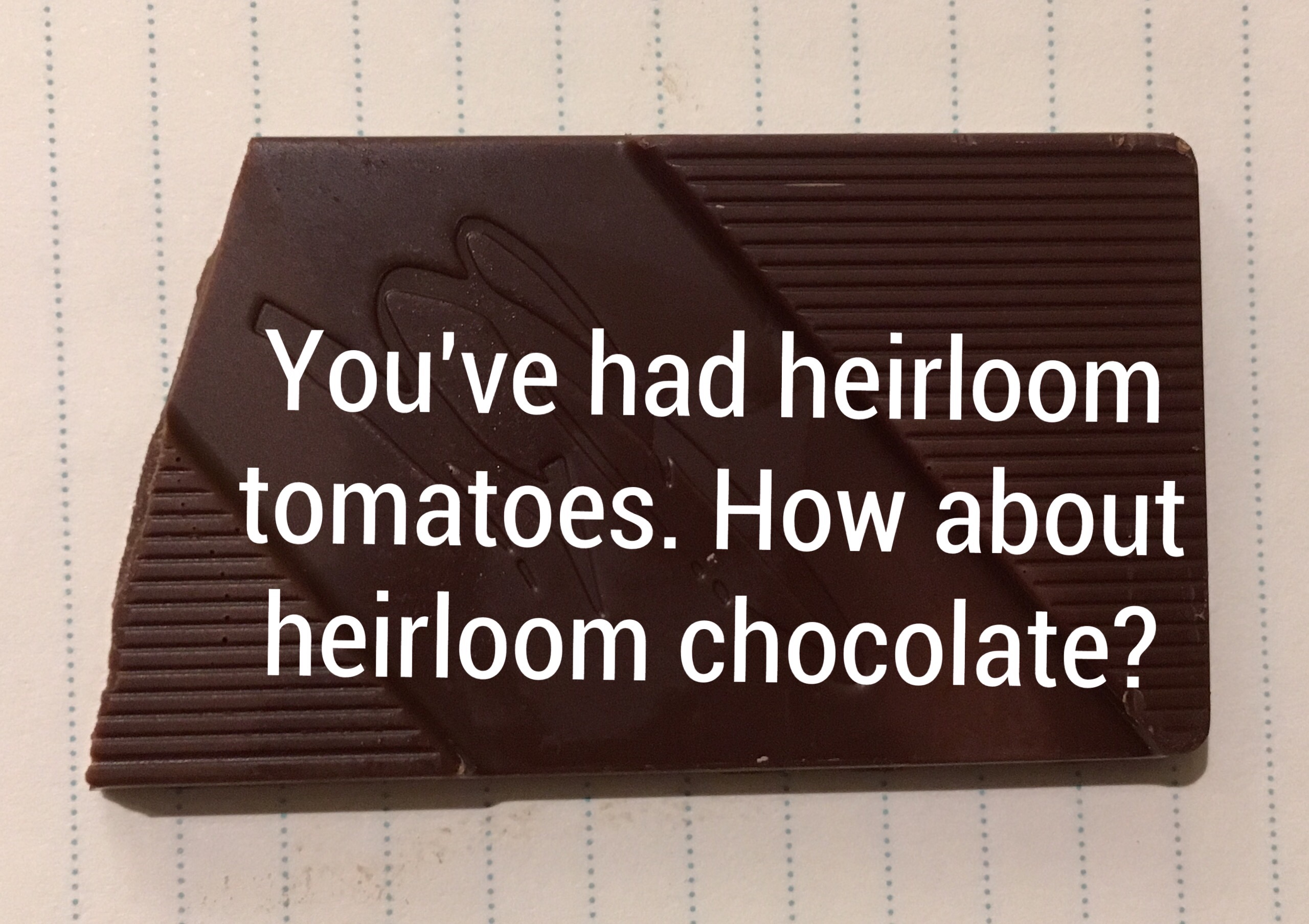 How cocoa beans get heirloom designation…or not:
The evaluation panel, made of 9 members from 8 countries, first roasts the received beans, without knowing where they are from.
The evaluators examine the inside of the beans for quality.
Then they mold bars of 68% cocoa to taste the profile of chocolate made from those beans — which of course is the ultimate taste taste. All chocolate bars tasted are made from the very same process, to avoid any inaccurate taste notes.
More than 25 samples have been rejected, and the panel gives feedback to the growers on possible reasons why the cocoa didn't pass muster.
Genetic fingerprints are made of the cacao beans so that the farmer can later cultivate the same beans.
Notes from tasting 3 chocolates made from heirloom cacao.
Like boutique wines made from rare grapes, the chocolates we tasted had wildly different flavor profiles. You can mention the codes if you contact the HCPF with any questions:
BELIZE #11 – Produced by Jacob Marlin, this chocolate was low in intensity with a nutty, caramelly flavor and a classic "chocolate" taste as well. As of this moment, no chocolate maker is using these beans.
NICARAGUA #12 – Ingemann Cacao Fino produced tehse beans which have strong brown and red fruit notes as well as tropical fruit flavors.
VIETNAM #13   – Vietnam is becoming more and more known for its cacao. A grower named Pham Thanh Cong produced these beans in the Mekong Delta. The chocolate has remarkable coconut tones with a very "chocolatey" flavor. Learn more about this heirloom chocolate.Ed Seguine, the tasting panel chair, noted that nowadays you'd rarely find such interesting depth in cacao from West Africa — where most commercial cacao grows.
Want to know more? Here's a long list of FAQs for the chocolate-curious.