For the first time ever, I had only one day to roam several halls at a Fancy Food Show.
What to do? Where to start? Ack!
When it comes to the New York Summer Fancy Food Show, the international booths always take precedence. New York means East Coast which means proximity to many interesting countries which can't invest in the haul to the San Francisco show.
Turkey and Italy had huge presences, and you'll see some interesting products from smaller European countries.
Without further ado…
New York Foods Captured My Fancy
Le Bon Magot Condiments Swept the Sofi awards
After tasting their preserves and condiments I can see why. They won 2 awards for their Spiced raisin marmalata alone.
Lemon-Sultana Marmalata took another award, as did Tomato and White Sultana Chutney. They use dried fruits and vegetables which accounts for the intense flavors and textures that seem to be reduced and slow cooked into perfect blends.
Asarasi sparkling water harvested from maple trees
This water is a by-product of the maple sugar / syrup making process. The founder says that billions of gallons of water usually get wasted. Asarasi captures this water then carbonates what tastes like sparkling water (no maple flavor).
The price for a 12 ounce bottle is about $1.50 in supermarkets. Seems more like something higher end restaurants could sell.
These bowls a perfect quick-meal solution from an old-time fish smoking company from Brooklyn, Acme Smoked Fish Corp.
Their high protein ready-to-eat bowl comes in a covered plastic container and has no nitrates or nitrates, with a naturally long refrigerated shelf life. This is a brilliant product to tap into the national Poke trend.
My kingdom for some good halva! This ground sesame desert is made from Ethiopian Humera sesame seeds roasted over flames, the traditional way, then stone-ground. The company says this method is 10-times slower than industrial grinding methods.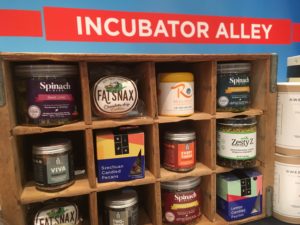 Cold Sorrel (Hibiscus) Tea
Crown Jewel Beverages has the slogan: Island Born, Brooklyn Raised. Their dark red Sorrel Tea reflects this slogan. Totally refreshing and delicious, it's just one of the interesting products coming out of The Food Works in Brooklyn. For now this Sorrel Tea is more of a regional beverage. Demand it at crownjewelbeverages.com
Awesomely Inventive European Specialty Food Finds
Dried Fish Snacks (Take That, Pork!)
A Latvian company called
Randa
which cans Norwegian fish as well as making, fish pate and cod liver oil, now has pouches of Fish Chicharrones and Fish Crisps with super cool branding. This was one of the most intriguing products I saw at the Fancy Food Show.
Danvita Organic Flat Breads from Lithuania
This bakery was founded in 1994, and makes bagels, crisps, flat crisp breads, and cookies. The packaging shows off the delightful and delicious flat breads.
Pura Delicia Italian Bean-to-Bar Chocolate
When traveling to Italy you need to know the key phrase: cioccolato artigianale
This family-run bean to bar chocolate and confection maker located near Milan uses Piemonte hazelnuts for its gianduja (hazelnut chocolate) creams and spreads. Delicious.
Interesting Snacks Bars
We all yearn for a truly savory bar (not a a sweet bar with savory ingredients added). This "sweet-free" snack is crunchy similar to an old-school Nature Valley granola bar, with 2 bars per pack. Along with a whole grain mix of quinoa, rice, amaranth and millet, the bar has chickpeas, dried carrots, olive oil, rosemary and spices, among other ingredients — none of them sweet. What a relief!
It's Lara bar by any other name! It has just raw dates and cashews…just like my fave Lara bar. Only the branding is fun and funky. I always like seeing the same thing done differently as evidence about how much packaging and branding matters.
Bear Nibble Yoyos – All Fruit Roll Ups for Kids from the UK
It's a mouthful, but these little cute fruit rolls that are kind of like a licorice-eating experience stated that they are ready to take the U.S. by storm. Bear Nibble Yoyos are the "#1 fruit snack" in the UK. It's all fruit which they say is sourced from sustainable growers.
The Yoyos were really fulfilling in how dense and fruity they were. Each pack has 2 rolls, and there's a little cardboard "lunchbox" filled with a few packs for your locker. I mean a kid's locker.
Favorite Non-Food Picks From the Fancy Food Show
These cool aprons used by chefs and crafters are made in Greenpoint, Brooklyn. They're supremely cool, not the least because they use U.S.-made denim.
There was a healthy stream of traffic to the "Prints Charming" booth. This family business takes old themes and imagery to make adorable and well-priced wine and cheese bags, as well as custom paintings that brands can create for your labels or to hang in a store. The Make America Grate Again faded vintage-style bag is especially fun.
Read Good Food, Great Business For Free on Kindle!