The San Francisco Professional Food Society helped me throw an epic Trader Joe's Themed Party
We were celebrating the publication of a book I wrote and self-published —TJ's Then & Now – Discover How Trader Joe's Changed the Way America Eats, on Amazon — in honor of my parents, my youthful discoveries at Trader Joe's, my love of California food history, the 50th anniversary of Trader Joe's, and most of all the discovery of a 1982 flyer stashed in a family car.
Here's how we planned the party, what we chatting about, and how you can plan a TJ's book party too!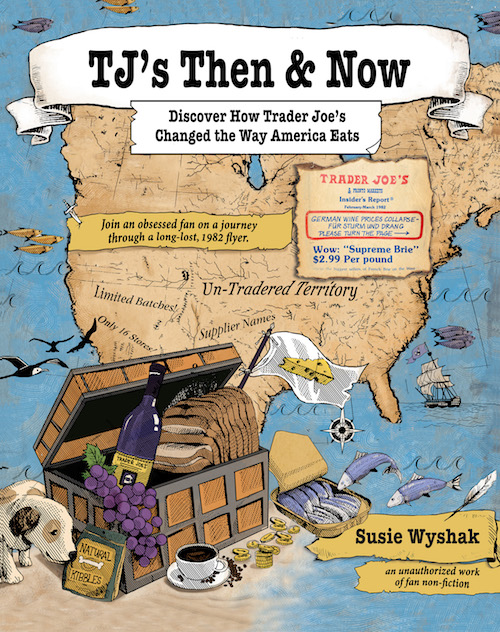 ---
Our Trader Joe's Cocktail Party Menu
For under $100 we had a huge spread of food with a good selection of wines, including:
Supreme Brie (which Trader Joe's was selling back in the early 80s!)
Unexpected Cheddar
Gluten-free Ginger Cookies
Olives
Fall crisps in – drumroll – pumpkin theme
Salt and Pepper Pistachios
A few kinds of crackers
Smoked Salmon dip
White Bean Hummus (which everyone loves)
Organic sugar snap peas
A few frozen French flatbreads which we heated up and cut up
Honeycrisp Apple Juice – because as noted in the book, Trader Joe's has a long tradition of taking amazing fresh fruit and turning it into pure bottled juice. This Honeycrisp is great cold or turned into a pumpkin spice warm apple cider.
I also made the best flourless peanut butter cookies using the natural peanut butter which the 1982 flyer proudly touts as being amazing, just as the peanut butter is today. (You can also make flourless sunflower seed butter cookies which are equally as delicious, using sunflower butter from Trader Joe's.)
A bunch of the people in the group were from Los Angeles and reflected on that first time they discovered Trader Joe's.
It's hard to remember a time when American food was more like what you see on Happy Days, when Doritos were really the only corn chips you could get in mainstream supermarkets.
Those are the times when most of our group stumbled upon Trader and not only enjoyed many of the bulk foods they offered then but discovered all kinds of exotic fare.
A fun way to detect earlier Trader Joe's stores is by the awkward parking lots.
Our discussion got especially animated as we laughed about intrepid trips to stores located in very small strip malls not designed for hoards of traffic.
In "the Valley" in So Cal, the old-time Trader Joe's on White Oak has a particularly scary parking lot you need a shoe horn and a prayer to get in…and out. One of the gals at the party used to work at the Trader Joe's on Masonic in San Francisco. She recalled that directing cars in that parking lot, where cars often line up down the street, was one of her favorite parts of the job.
We debated and discussed when, where, and how we shop at Trader Joe's.
The fact that you can get in and out in 10 minutes (if you're disciplined to follow a shopping list) was a common theme in why we remain devoted to TJ's.
My quote of the night: I used to count how many Trader Joe's I'd been to the way I counted the number of guys I dated. I remember when I got to 27 (stores, that is).
I will work on posting a recording of the discussion with the San Francisco Professional Food Society as it was so much fun!!!
Plan a Trader Joe's Cocktail Book Club Party
Whether or not you began shopping at Trader Joe's in the 1970s, 80s or the new millennium, planning a party with all Trader Joe's food and drinks then discussing them makes for a rollicking evening.
Get the book: You can get the book, TJ's Then & Now – Discover How Trader Joe's Changed the Way America Eats, on Amazon, and I highly recommend the printed version rather than the Kindle as it very visual with beautiful illustrations.
Lay out the food: Group savories together and desserts together. Be sure to leave time for any drinks that need to be chilled.
Keep the packaging: When you lay out the food, lay out the packaging too, which makes for fun conversation.
Please get in touch if you would like a bulk quantity at a discount.