To be clear, Costco is not a city in Mexico. It's really Costco. In Puerto Vallarta.
It all makes sense. Of course a city with tons of retired Americans has a Costco. Talk about creature comforts!
Upon discovering the Costco, we hopped in an Uber (another export), to see what was the same and different at El Costco.
The underlying mission was an homage to my dad, one of Costco's biggest fans. We had traipsed to Mexico to celebrate Dia de los Muertos, and a toast to dear old muerto Dad was in order. Costco did not disappoint. Their mango smoothies, with which we toasted, were off the hook—pretty much purely pureed mango.
What We Found at Costco Puerto Vallarta
Perusing grocery stores for unique products has always been my avocation. Like literally, the stores with only-local foods are my first and last stops.
Sadly my picture of the HUGE bag of dried hibiscus flowers at a bargain price — for drinks and whatnot — did not come out. I was going to bring the hibiscus home but the bag had breathing holes, and I was afraid it would get confiscated.
The Costco had all the usual home goods and hardware suspects as well as many wines we see in the U.S. Tequilas and local bakery favorites were fun to peruse…as were some other Mexican foods and variations on some U.S. food favorites:
Fan of the Costco Connection magazine? If you pay a visit to Costco in Mexico be sure to pick one up. The magazine has the same high quality along with interesting, regional articles and features (en espanol of course).
Costco wasn't the only store we made a point of visiting.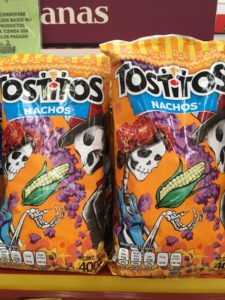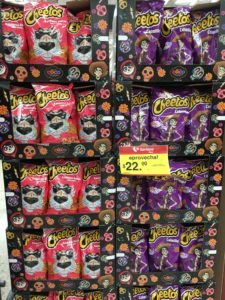 Just before heading home, we dropped in on a supermarket. While they had sugar cane, to my shock there was no fresh passion fruit. Maybe it was the wrong season.
Locally roasted, Fair Trade coffee made the perfect carry-on food gift. I loaded up.
If you love blatant food marketing, don't miss the aisles with the big-brand. The designs of snacks and cereals are outrageous in pretty much any country. T'was the season for Pixar to promote the heck out of the movie Coco, as the topic of said movie is Dia de los Muertos.
Needless to say, themed co-promotion was in order.
What foods have you had fun discovering in big stores abroad?
(By the way, the title of this blog post is a play on a book from the 1800s.)