Two separate real-world case studies provide insights into how retailers can increase sales of better-for-you snacks — such as pistachios, veggie chips, apple chips, and Kellogg's Special K Chips — in convenience stores.
The goal: The studies were developed to help demonstrate to retailers some potential low-cost strategies that can help them increase sales of "better-for-you" items, which are already experiencing strong growth in stores.
The organizers: The case studies, "Healthy Checkout Pilot Test" and "Better-for-You Planogram Pilot Test," were developed by the National Association of Convenience Stores (NACS) in conjunction with the Project on Nutrition and Wellness (PNW) and the Cornell Food and Brand Lab (CFBL).
Results of 2 Different Healthy Food Merchandising Tests:
Better-For-You Food Checkout Pilot Test at a University Store
NACS and Utah State University launched a healthy checkout pilot test at the university's on-campus convenience stores to determine whether sales of healthier items would increase when placed near the register or checkout area.
The test examined whether impulse purchasing of healthier items would increase if those items were placed next to or near the checkout area. Items selected for the test conformed to U.S. Dietary Guidelines for Americans, which are released every five years by the U.S. departments of Agriculture and Health and Human Services
Better-for-You Planogram Pilot Test at Convenience Stores
NACS and E-Z- Mart Inc. launched a pilot test at E-Z Mart stores to determine whether integrating healthier or better-for-you snacks into a traditional snacks display can nudge consumers into purchasing healthier snacks. The test based on the principle of the "behavioral interrupt," where something unexpected or novel is introduced at the point of decision to influence the outcome of the decision.
Methodologies
The healthier snacks were co-merchandized with traditional snack offerings such as peach rings and other gummi treats.
No signage indicating "Healthy Choice" or similar messaging was employed. The only factor in play was the new location of the targeted items.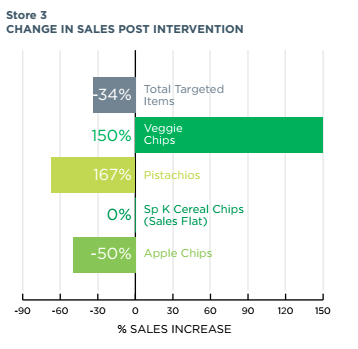 Positive Results
More than two in three convenience retailers (69%) said that foodservice sales increased last year, and 61% said that sales of better-for-you items experienced sales gains.
Through placement of items and signage, test results showed that moving better-for-you options to the checkout area, and calling attention to their healthy attributes, can increase sales of these items. 
"Both the healthy checkout and better-for-you planogram tests showed that low-cost tactics can be implemented at convenience stores to grow sales of healthier foods. And, because most of these items were packaged and had a long shelf life, the tests also showed that success with selling packaged better-for-you items could be an affordable entry point and lead to a to a more robust fresh offer," said NACS Director of Strategic Initiatives Carolyn Schnare.
View the Studies
Get all the details and results of the "Better-for-You Planogram Pilot Test" and "Healthy Checkout Pilot Test" (PDF format).
Both are worth a look whether you are a retailer or selling healthy food to convenience stores.