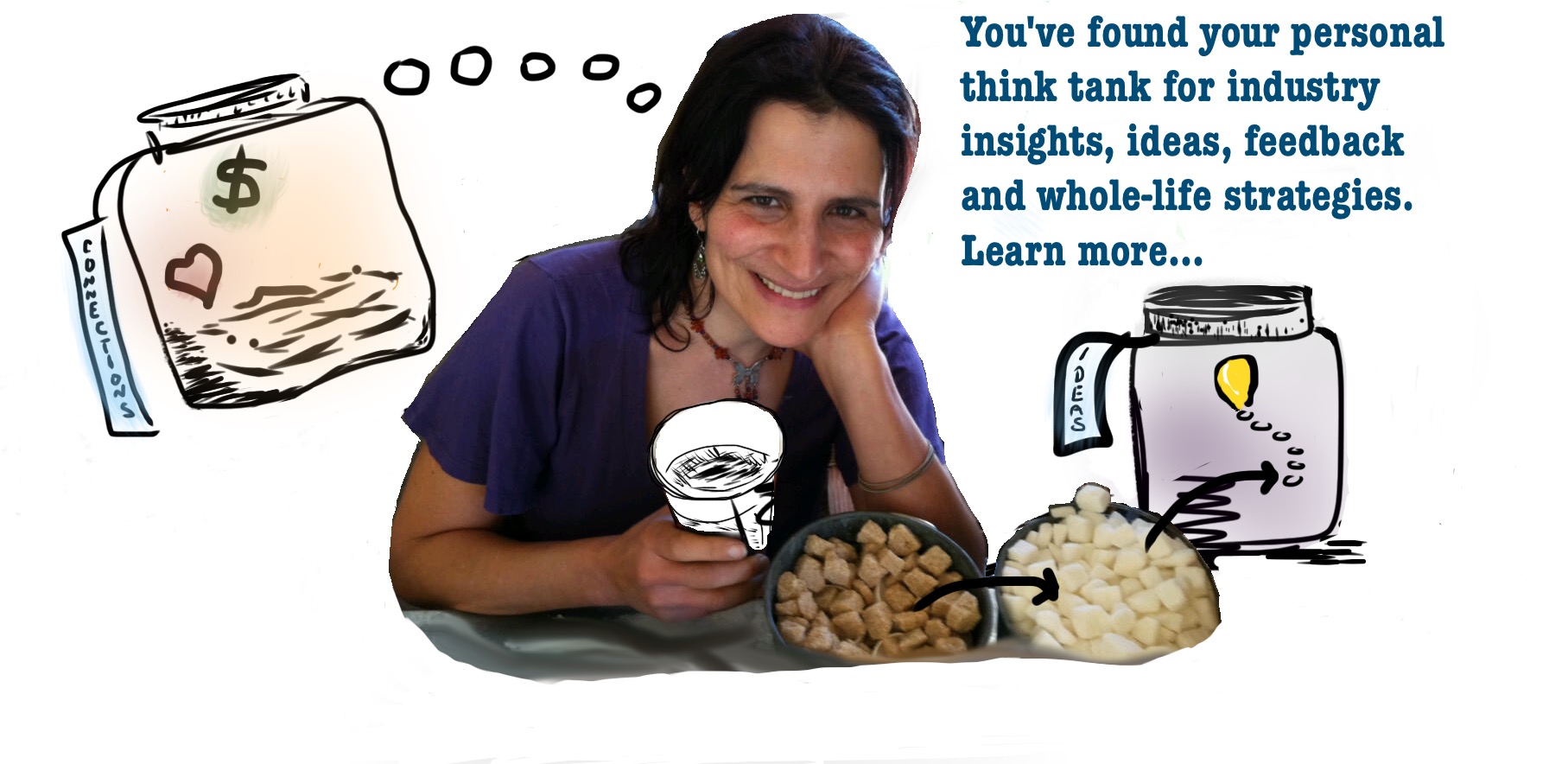 What would you like out of running a food business (and out of life)? What are your options? How do you choose? And what's stopping you from knowing these answers and acting?
My passion is helping passionate entrepreneurs as your personal think tank. That trusted advisor you call for instant insight, strategic suggestions and connections.
The goal: help you grow in food business and in life by connecting the right dots.
If you've perused FoodStarter and perhaps my book Good Food, Great Business and have general questions, feel free to post on my food business Facebook page. Who knows,  I may write an article on your topic in question.
[one-half-first]
food
1.any nutritious substance that people or animals eat or drink, or that plants absorb, in order to maintain life and growth.
[/one-half-first][one-half]
start·er
noun: starter; plural noun: starters
a person or thing that starts in a specified way.

an automatic device for starting a machine, esp. the engine of a vehicle.
[/one-half]
The Magic of a Right-hand Strategist at Your Side
If you're a solopreneur with funding, and want a trusted advisor, you're in the right place. Our conversations have no limits and might weave through:
creative and food business strategy: from developing WordPress blogs and websites to writing blogs and books to connecting with farmers and other sources of unique ingredients to generating interesting product and marketing ideas.
insight into market opportunities and trends, what's passe, location ideas, partnership suggestions…all of those dots to connect.
connecting your ideas with action, from who you should meet to how you should source ingredients.
self-sabotaging behavior such as why you keep getting to a point and stopping; or have trouble asking for help; or other blocks or fears getting in your way of your dreams.
goal setting and habits for entrepreneurial success
ways to make money while getting started
Recent Client Challenges / Brainstorms
Starting up, seeking connections and ideas of how to find a good hire and how to promote his business.
How to quit his job and run a food businesses. My client needed to narrow down his options.
Connections to expand her local food business.
Opportunities for a bakery with a retail storefront. (My client presented this desire in 2012, and in 2014 I was still sending her spottings, waiting for the right one to turn up.)
How to turn a commodity product into a brand that would appeal to an upscale market
[one-half-first]
[/one-half-first]
[one-half]How can I help?
[/one-half]
Here are just a few testimonials
Dozens of passionate food artisans and career changers have benefited from my knack for connecting the dots and utter pleasure in helping people. (See a few testimonials below.) Feel free to peruse my experience in food to see who I am.
"I contacted Susie thinking she could help in some way with planning a new retail food business in Oakland. She not only knew the landscape of the local food retailer scene, she had broad insight into trends and specialty grocery best practices across the U.S. Susie enthusiastically connected me with food leaders and other consultants in the Bay Area and offered an array of helpful business model ideas. I'd recommend her as a consultant to anyone seeking a quick start to forming their food product or retail concept ideas and getting connected."
-future Bay Area retailer
"Susie is one of our most valued, savvy, and super fun business partners. Since the time she discovered and tracked us down at our local farmers market, we have enjoyed her clear passion, ongoing knowledge, and eye-on-the-future view about the artisan food scene. Susie's all about seeing the possibilities and finding opportunities. She was instrumental in introducing our products to Foodzie.com, live event producers, and the right retailers. We even hired Susie to help us with website content after seeing her writing chops on online store, and continue to enjoy her ideas, connections, and friendship!"
-Rachel and Bill, p.o.p. candy
"Susie is an amazing connector, strategic thinker who connects the dots, and is really fun to work with! She is truly interested in people and food, and takes the time to get to know people and their stories. She's one of those people you can just trust and feel comfortable with. She is highly creative and full of great product ideas (both food and software). If you're looking for help getting things off the ground or taking things to the next level, talk to Susie."
Joyce Guan Founder/VP of Sales, Buyer's Best Friend
"I met Susie when Foodzie.com was just getting off the ground. It was Susie's determination, hard work, and passion for her work that made Foodzie.com what it became. Susie is extremely effective in communicating and developing marketing campaigns. In fact her work for Amella Caramels helped us make into the Oprah Magazine. She is very creative and is always wiling to lend a helping hand to a colleague. Susie has been instrumental in helping us grow our Amella Caramels Brand through her great contacts and knowledge of the specialty business. I would recommend Susie Wyshak with great confidence that she get the job done right!"
Emir Kiamilev, Amella Caramels
"Susie truly loves food and is very inspiring to work with. She brings many great ideas to a project and has the ability to connect with people. She is always the one to get things done. She has knowledge of the food industry and has variety of marketing and other skills such as writing and strategy."
Arnon Oren, Oren's Kitchen
Want to learn more about me?
Get in touch if you're ready to brainstorm!
Or post a question on my Facebook page.