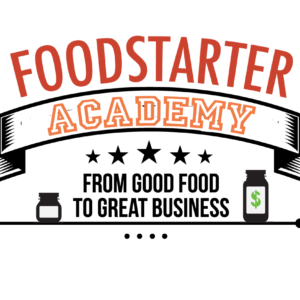 Thank you again for participating in this first FoodStarter Academy, for contributing and for graciously flowing with the pain points. I'll send out and post new webinars and other opps.
If you know folks who could benefit from these materials and the Academy please ask them to sign up for the newsletter and / or contact me @ susie@foodstarter.com. (Please don't share this page.) Thanks 🙂
Useful Resources
Winter 2015 FoodStarter Academy
Session 1 (Feb. 3) with Deb Mazzaferro
Industry overview: Get a peek into what's in and over, and hear stories about success and failure from a coach and consultant who's seen it all. What's it take to be successful.
Deb Mazzaferro
Coaching & Consulting for the Specialty Food Trade
Office: 941-359-8599
www.CoachMaz.com
www.GrowingYourSpecialtyFoodBusiness.com
ADVANCE PREP EXERCISE: Write out your vision for your food business, using Chapter 3 in the book and the starter template (if you like) at http://bit.ly/1uQhUCH
Exercise for Feb 5: Start thinking about a company and product strategy that might serve your mission and vision. Researching what's out there is a great first step; lots of tips in the book.
Spreadsheet to record your findings
(When you sign up for the FoodStarter newsletter, you see a link to all the online templates that accompany Good Food, Great Business.)

******
Presentation  (PDF) | Video: not available due to glitch
Customer targeting: Find your customer, find your niche: Defining your customers will lead to the right business and  product strategy.
Exercise for next session: Using Chapter 4 in Good Food, Great Business create personas of the various customers you want to serve & draft a mission statement. Focus on your product's value proposition and match that with your consumer needs within one concise brand positioning statement.
******
Session 3 (Feb. 10) with Sarah Lanphier, Co-packer
Product strategy: Hear from a nimble co-packer who started up as a college student and incorporated local and social values into a multi-faceted business (NutsAboutGranola.com)
For FoodStarter Academy participants:
50% off a one hour co-packing 101 session. Streamline your production, learn the do's and don'ts of co-packing and ask specific questions about scaling your product lines. Cost $75 (normally$150)
Contact:SarahLanphier | Email:sarah@nutsaboutgranola.com
Website:http://www.nutsaboutgranola.com
Exercise for Feb.12: Based on your vision for your life and company, think through how you want to start producing your foods and ultimately if that will likely change.
******
Session 4 (Feb. 12) with Rachel Zemser
Production strategy: Whether DIY or using a co-packer, the Intrepid Culinologist will shed light on how to develop a product that will appeal to people and to retailers in flavor, price and shelflife.
For FoodStarter Academy participants: 20% off my book + 1 hour consulting Full price is $100- with this course, $80 Use discount code SUSIE http://theintrepidculinologist.com
******
Session 5 (Feb. 17) with Juli Shore
Branding and packaging: It may be cute but it sure is expensive. Juli Shore weighs brand and packaging experience goals with customer and company desires to create beautiful designs people love.
You'll also have the chance to submit your names for quick feedback from She Who Shall Name – Alexandra Watkins, founder of naming company Eat My Words (www.eatmywords.com) and author of Hello, My Name is Awesome! (See her naming webinar.)
For FoodStarter Academy participants: Free 30 minute phone consultation – juli@julishoredesign.com
ADVANCE PREP EXERCISE: Using the Research template get out and check out branding and packaging of products competitive to yours. See where your brand might fit. Read chapters 5 & 6 in Good Food, Great Business
******
Session 6 (Feb. 19) Laiko Bahrs & Leslie Pave
Media Outreach presentation with Laiko Bahrs
Telling your story to press and social: Two marketing experts share their wisdom on authentic storytelling that appeals to customers and press, while building your brand.
For FoodStarter Academy participants:
With Laiko: $50 for a 30-minute consultation with Laiko Bahrs on your publicity strategy (50% off).
lbahrs@me.com
With Leslie: 50% off one meeting with Leslie Pave to create initial social media content strategy and gain proficiency with social media tools for businesses. Cost $75 (normally $150) leslie@lesliepave.com

******
Session 7 (Feb. 24) with Tim Forrest
Creative sampling & selling beyond Whole Foods: There's a world of customer and distribution possibilities out there. Tim Forrest walks you through ideas from brick & mortar to QVC.
ADVANCE PREP EXERCISE: Read about sales and distribution in Good Food, Great Business. And think about your own strategy; there's an online template on Google Drive.
******
Session 8 (Feb. 26) with Deb Mazzaferro  / Susie 
Reaching retailers & exhibiting at tradeshows: Expo West is around the corner, and Deb will share her wisdom on getting your products in front of wholesale buyers and planning for the day you start selling at events.
---
Keep in touch on our private Facebook group. Contact Susie with any exciting updates. And if you need a great brainstorm, consider a strategic insight session, tapping into the brain of Susie and her business partners.